Barker, Pat. The Eye in the Door. 1993. New York: Plume, 1995.
Summary
: The second volume of
The Regeneration Trilogy
. Dogged by a backdrop of hatred against pacifists and homosexuals, tormented by his own ambivalence about the rightness of war with Germany, and determined to free hometown friends from conviction of treason, Lieutenant Billy Prior's personality starts to fracture, and not even Dr. Rivers can help him. In time, though, he seems to overcome his multiple personalities as the events of history progress.
Comments
: Though I liked the first volume of the trilogy
Regeneration
quite a bit, this one was even better! It was, for some reason, a much easier and much more enjoyable read. Fewer characters to worry about, and those central to the plot--Billy Prior and Dr. Rivers--came alive for me in this book in a way that they simply did not in the previous. Billy in particular, the schizophrenic sexual omnivore and entirely original Pat Barker creation, is great. Dr. Rivers continues to be intriguing, and I loved the homoerotically-charged therapeutic sessions between him and Billy.
Speaking of homoeroticism, that particular theme is more explicitly developed here at the end with the reappearance of Siegfried Sassoon, openly expressing romantic affection for the soldiers under his wing. And, also, of course, with Charles Manning, who is stressing over Maud Allan's libel suit. That lawsuit underlines a new theme that the author begins developing: That, despite the cult of manhood promulgated by the nationalistic culture of war, the war was also liberating women by employing them in the munitions factories and providing a better wage than their husbands were earning--and doing it way faster than many were comfortable with.
Homosexuals and "loose women," along with pacifists, become scapegoats for a beleaguered British government that fears it is losing the war. The title of the novel,
The Eye in the Door
, is a reference to the constant surveillance and paranoia of the period. Oddly, the visual metaphor for this particular abridgment of democratic freedom speaks far more loudly and persuasively right now than
The X-Files
era during which Barker wrote this novel the first place (or, for that matter, the early 20th century, I could easily imagine) and bluntly reminds us that seeing danger from without makes us too ready to turn right around look for danger from within.
Notes
: trade paperback, 10th printing
Rating
:
7/10
-
Plainly-written but undeniably haunting. A remarkable work that brings the WWI era and its ambiguities back to life.
Barker, Pat. The Ghost Road. New York: Dutton, 1995.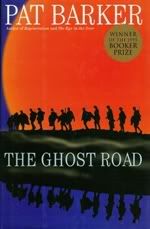 Summary
: The final volume of
The Regeneration Trilogy
. Billy Prior heads back to the front to live (and die) his last days fighting, while Dr. Rivers remembers his anthropological sojourn in Melanesia and his interaction with the wise man of the village, Njiru.
Comments
: Ah, after two such plain-spoken yet profound prequels, what a disappointment! This novel bounces back and forth almost exclusively between Dr. Rivers' recollections of the indigenous people of Melanesia and Prior's experiences (toward the latter half entirely in journal entry form) back at the front in France. Note the irony that the doctor reminisces while the officer writes. For the first time, I felt that Pat Barker was feeling constrained by the historical events surrounding her characters; the two storylines were by no means an easy fit. The themes that appear elsewhere in the trilogy--the ethics of pacifism, the homosexual threat of the military, etc.--are quickly rehashed but not expanded. The only significant new addition is Njiru's revelation of spirit or God Ave, the "destroyer of peoples," that presages disease or war and his final lesson to Rivers: how to exorcise it. This rhymes with the author's account of the end of the war and a dying soldier's declaration that "It's not worth it." Though Prior seems to have convinced himself otherwise, that about sums it all up. With regards to both war AND this novel, that is.
Notes
: hardcover, 1st American edition, 2nd printing
Rating
:
5/10
-
The Ghost Road ends Barker's explosive trilogy with a disappointing fizzle. Essential only for the completists amongst us.
Buruma, Ian. Inventing Japan: 1853-1964. New York: Modern Library Chronicles, 2003.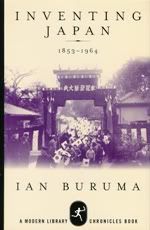 Summary
: The history of the rise of modern Japan, from the arrival of Commodore Perry and his black ships to the 1964 Tokyo Olympics.
Comments
: Ian Buruma, one of my all-time favorite scholarly writers, has provided a concise, readable, and intelligent summary of the history of modern Japan whose greatest narrative strengths lie in the pre-WWII period. Though I noticed that he did at times shy away with some of the most politically-charged controversies (To what extent was Emperor Hirohito responsible for the war? To what extent did Koreans actually support Japanese rule?) and offers the answers least likely to offend, for the most part his analysis seems sound and his research thorough.
Perhaps anticipating his later collaboration with Avishai Margalit on
Occidentalism
, Buruma cleverly notes that the Japanese sense of their own cultural uniqueness is a direct result of their contact with German/Nazi notions of German cultural superiority and that many of the things now regarded as traditional in Japan are actually modern confabulations. Ever heard it said, for example, that the salaryman is the modern-day samurai and that he is responsible for Japan's booming economy? Perfect example. The understanding of "samurai" in this equation is actually relatively new invention; suffice to say that real samurai weren't like the samurai of the contemporary popular imagination. For a culture that has historically been heavily influenced by that of others, none of this should come as a surprise, but it IS after all important to remember that much has been made both within Japan and abroad of Japanese exceptionalism and that it is mere myth.
Even though, as I suggested earlier, I felt the post-WWII chapters to be the weakest and most laden with semi-connected, ill-explained factoids, this book is perfect for anyone who wants to understand the Japan they are seeing in the news right now. Everything that's happening now is simply a logical continuation of the history of the past century, and things are unlikely to change course--until Perry's black ships (or something else as violently momentous) come again, that is.
Notes
: hardcover, 1st edition, 1st printing
Rating
:
6/10
-
As perfect an introduction to its subject as you are ever likely to get in English. Anyone with casual interest in anything Japanese should check it out.
Buruma, Ian and Avishai Margalit. Occidentalism: The West in the Eyes of Its Enemies. New York: Penguin, 2004.
Summary
: An investigation into the origins and permutations of "occidentalism," a dehumanizing, two-dimensional image of the West as it relates to industrialization, economics, ethnocentrism, and religion.
Comments
: Obviously intended to be paired with Edward Said's classic
Orientalism
and in large part a reaction to the socio-political realignment in the wake of 9/11, this is the sort of comprehensive yet tightly-focused cultural history that I only wish I had the expertise to write. Though the authors contend that Occidentalism actually started in the West and was appropriated by the East, one of the underlying theses that comes out on occasion, particularly in "The Occidental City," is that these culture clashes are virtually prehistorical in their basis and that the supposed two sides of the issue have become oriented to a West vs. East schism.
Otherwise, according to the authors, we can pretty much blame the Germans for every bad idea that has arisen since then. The essentialist notions of "Kultur" that gave rise to the Nazi party has also inspired generations of Japanese fascists, Russian nationalists, and Islamic jihadists. (And, apparently, Judeo-Christian tradition accounts for the rest.) Though I suppose it seems like an oversimplification to demonize one particular ideological movement for such a wealth of bigotry and tragedy (not to mention narcissistic to say that prejudice against the West is the West's own fault), there's no disputing the persuasive power of such revolutionary (bad) ideas.
Naturally, no solutions whatsoever present themselves...but there aren't any quick-fix antidotes for bigotry. (If there were, well, no one would be writing books like these anymore.) Treatments represent the only alternative, and one of the best ones is simple, clear-sighted understanding. In that sense, this book is invaluable. After all, if we conclude that indeed "they" got it from "us," as the authors contend, then there really is no fundamental "us vs. them" schism at all--it's all just one big, dysfunctional "we," reaching as far back in time as all of us can see.
Notes
: hardcover, 1st edition, 1st printing
Rating
:
7.5/10
-
An innovative, level-headed, and timely investigation into the source of anti-Western stereotypes. Highly recommended.
Kannagi, Satoru. Only the Ring Finger Knows Vol. 3: The Ring Finger Falls Silent. Trans. Duane Johnson. Los Angeles: Juné, 2006.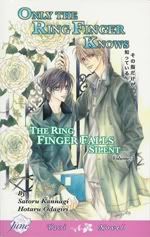 Summary
: Originally titled
Kusuriyubi wa Chinmoku Suru, Sono Yubi dake Shitteiru 3
. With illustrations by Odagiri Hotaru. Wataru Fujii's cram school life is complicated by a lonely Masanobu Asaka and a jealous Yuichi Kazuki. Meanwhile, Shohei still wants to separate Wataru and Yuichi and sees the perfect opportunity to wreak strife during the "celebrity" charity auction Wataru's school festival. Fortunately, his plot is foiled, and the lovebirds emerge more devoted than ever.
Comments
: Okay, I didn't think it was humanly possible for me to hate Vol. 3 any more than I hated Vol. 2 of this sorry excuse for a novel series, but I was wrong! It's the longest installment yet, which means I've wasted even MORE hours of my life than I did on the previous volume. Kannagi Satoru is back with even more "Must meet the word count at all costs!" excrement that marries unnecessarily wordy, repetitive descriptive narration and dialogue (mostly dialogue) with hardly any plot whatsoever. And "Who needs adaptations?" translator Duane Johnson is back as well with his poorly-edited, sorry excuse for a polished English text. (You know, I don't care how the Japanese break paragraphs--so sorry but that just ain't something you want carried over. Dude, if you don't break the paragraphs correctly, I have trouble figuring out who's talking. Are we clear on that yet!?? AND, goddammit, I have trouble figuring out where the scenes are suppose to break, too!) On the bright side, the book is so bad to begin with that Johnson can only bring it down so much further. Can't ruin it if it's already shit, right?
As for why the story itself--in any language--is so awful, let me number the ways: 1) The protagonist. He's absolutely nothing special, a real wimp, but for some reason he's the apotheosis of what BL (and shoujo) manga men want. 2) The Destined Lover. He's an absolute asshole who thinks being abusive and telling his boyfriend whom and whom not to talk to is a sign of devotion--and the novel appears to agree with him. 3) The Rival. Waaaay nicer than Destined Lover, but if you're nice you come in last, and you know he's gonna lose before he even makes his first move. This is the sort of stuff that gets shoujo manga labeled misogynistic, and Kannagi assumes that, for homosexual relationships, social approbation is normative and skirts the issue entirely by never making her characters face it even though Yuichi's brother mentions it in his rationale for trying to break them up. Lovely, eh? Suffice it to say that I wouldn't wish the
Only the Ring Finger Knows
novels on my worst enemy.
Notes
: paperback, 1st American edition, 1st printing; first published in Japan in 2005
Rating
:
1/10
-
If a rating below a "1" were possible, this novel would get it. One of the worst novels I've read this year? Bah! More like one of the worst novels I've read so far THIS CENTURY.
Konohara, Narise. Cold Sleep. Trans. Douglas W. Dlin and Iori. Los Angeles: Juné, 2006.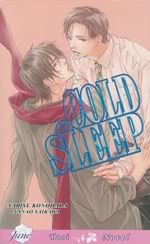 Summary
: After losing his memory in a car accident, Tohru Takahisa finds himself taken in by the gentle yet enigmatic Fujishima. Since Fujishima refuses to give him any answers to his past, Tohru goes looking for it, but what he finds is unsatisfactory...and, instead, he finds himself falling in love with Fujishima. However, only when a woman seeking revenge for her brother's death takes her anger at Tohru out on Fujishima, do the two confess their love for each other. Also includes to short stories featuring high school classmates that meet eleven years after graduation and strike up an unlikely friendship.
Comments
: Marginally better than any DMP novel translation thus far (or subsequently, if the first volume of
The Man Who Doesn't Take Off His Clothes
is any indication), but, unfortunately, the book itself in it's original form is fundamentally weaker than any of Konohara's other English-language releases. Those just looking for sex scenes get no satisfaction whatsoever in this novel. And, plot-wise, there's no satisfaction to be had here either--in EITHER of the stories. Both pretty much end with a confession of love, and in the title story you don't even get any explanation as to who Fujishima was to Tohru before he lost his memory. In her afterword, the author claims that this is the first installment of a series, but God only knows if we'll ever see the sequels. (DMP appears to be rethinking their BL light novel line, and, though I really do want to read them--or at least the good ones!--in English, if what they license isn't going to be good, they might as well just stop.) Even though I'm notoriously weak when it comes to sappy happily-ever-afters, there just wasn't enough here to make it worth my while.
Notes
: paperback, 1st edition, 1st printing; originally published in Japan in 2003
Rating
:
4.5/10
-
An unessential novel that exists primarily to soak up money from an undiscriminating BL novel fanbase. Of questionable absolute value, even to enthusiasts.
Konohara, Narise. The Man Who Doesn't Take Off His Clothes. Vol. 1. Trans. Kelly Quine. Los Angeles: Juné, 2006.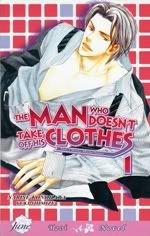 Summary
: Originally titled
Nuganai Otoko 1
.
Don't Worry Mama!
series. With illustrations by Shimizu Yuki. Section Chief Fujiwara is Anna Kaitani's boss from Hell, but when Kaitani suddenly starts caring about his job and a new product line, Fujiwara's there to every step of the way to stop him from taking any "risks." So, Kaitani decides to blackmail the boss with compromising photographs...and during the blowback a co-worker mistakes them for gay lovers into S/M! Well-meaning meddling in their budding "relationship" on the part of the gay community lands Kaitani locked in a room with a drugged Fujiwara--and, before he knows it, they're having hot sex. But only Kaitani remembers, and now he really is in love...
Comments
: More shoddy editing from DMP's Juné novel line. Less than ten pages into the first chapter, I notice an error. Less than ten pages past that, I noticed another. And so it goes. Fortunately, the translation, despite specific points at which I believe the word choices were inappropriate, was at least readable, and the story was, despite getting off to a very slow start (multi-volume pacing can be a bitch), delightfully entertaining. You just know it's gonna be good when the hero bemoans the fact that his parents gave him a girl's name. When Kaitani had his drunken boss tied up in order to take porno shots of the guy, I was chuckling, and by the time he had the boss tied up AGAIN on his apartment floor, I was laughing outright. The ridiculousness of it all naturally gets even more extreme when Higashiyama (from
Don't Worry Mama!
) catches a glimpse of the compromised Fujiwara and blithely assumes that the two are a couple. Which then leads to gay bar-hopping and gay mixers...and a lovesick gay waiter. It's all very cute and lots of fun. (Though those looking for tons of hot sex scenes should look elsewhere. There's only one. *ahem* Sex scene, that is. I'll let you decide whether or not you think it's hot.) Definitely the funniest and most tightly focused Konohara Narise novel I've read thus far. But I guess that's not saying all that much.
Notes
: paperback, 1st edition, 1st printing; originally published in Japan in 2005
Rating
:
6/10
-
If you go into this with absolutely no expectations, you'll be pleasantly surprised. Well-entertained, even. A must for fans of BL and/or gay romantic comedy.
Leavitt, David. Florence, A Delicate Case. New York: Bloomsbury, 2002.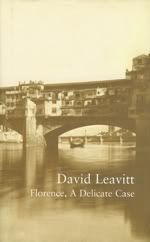 Summary
:
The Writer and the City
series. David Leavitt narrates the history of the Anglo-American expatriate community in Florence and highlights the lives and writings of its luminaries.
Comments
: Though Florence boasts more "important" artwork and history than you can shake a stick at, novelist David Leavitt focuses less on the prosaic sights of the usual guidebook and more upon the underbelly of what he characterizes as a medieval, claustrophobic locale popular as a place of suicide. Specifically, the way in which it became a bohemian community for aspiring--and often homosexual--artists from elsewhere, mostly England and the United States. (He seems particularly attached to Ronald Firbank.)
One of Leavitt's primary theses in this little tome is that these artists squandered their artistic talents with gossip and petty vendettas. By the time I had gotten to the fifth and last chapter when he began a truncated account of his own adventures in Florentine expatriate society, I was well on my way to a disgusted conclusion regarding this author's own hypocrisy. He was gossiping when he should've been documenting! As we all know, gay guys are stereotyped for that sort of behavior, but Leavitt has actually acquired a track record for this sort of thing in the wake of the publication of
While England Sleeps
...so I suppose he can relate on a personal level. Luckily for him, though, he saved himself at the last second: "I'm struck by the degree to which, without ever intending to, I seem to have adopted the very tone of the Anglo-Florentine memoirist that earlier I saw fit to decry" (165). Amen, brother. At least he realizes it. And readers who get this far will likely be pissed off--for, like the works of those aforementioned memoirists,
Florence, A Delicate Case
fails to live up to its writer's full potential or, for that matter, his recent track record.
Notes
: hardcover, 1st edition
Rating
:
4/10
-
An overheated, unnecessary account of the greatness of Western art and culture designed to please a Western audience who already believes that it is the only important human civilization on this planet.
McCarthy, Cormac. The Road. New York: Knopf, 2006.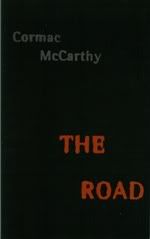 Summary
: A man and a boy, both unnamed, traverse a desolate, post-apocalyptic American landscape where all is ash, heading south in order to escape the ravages of winter. Amidst unspeakable horrors of human desperation, the dying man has vowed never to leave his son alone--even if that means killing him with his last bullet. Yet in the end, he cannot bring himself to do so, but his son finds a measure of salvation with an enclave of "good guys."
Comments
: WOW. How could a novel wherein so little actually happens be so absolutely captivating? The prose is blunt yet lyrical in the best of American modernist tradition (although I did notice a few unfortunate typos), but unlike such literary greats as Hemmingway or Faulkner, Cormac McCarthy's writing in this novel has its stylistic quirks but never descends into obscurity or confusion--the tightly-woven narrative perfectly evokes the repetitive nature of life on the road, the constant anxious anticipation of the atrocities up ahead, and the increasingly tense feeling between the man and the boy as the story progresses.
Though obviously written in the Western tradition with a bit of science fiction for added flavor (there's no time spent explaining what the heck happened to the world), I'm most immediately reminded, oddly enough, of Minekura Kazuya. Of
Stigma
, not
Saiyuuki
. Both stories feature a man and a boy traveling the world with a stated goal, but the reality is that the real object is to stay together. And, most importantly, both stories feature bleak, near-hopeless worlds in which there are hardly any signs of life whatsoever. And, suffice it to say that I absolutely loved
Stigma
when I read it, and I love
The Road
as well.
Notes
: hardcover, 1st edition
Rating
:
7.5/10
-
A powerful tale that lingers in the mind like the aftermath of an otherwise forgotten nightmare. One of the must-read novels of 2006.
Miller, Isabel. Patience & Sarah. 1969. Vancouver: Arsenal Pulp Press, 2005.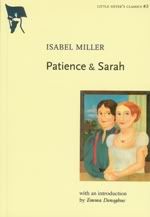 Summary
: Originally titled
A Place for Us
. Early 19th century America. Painter Patience White and Sarah Dowling, a farmer's daughter raised by her father like a boy, meet by chance and soon fall in love. The younger Sarah is determined to make her way in the world with a farm of her own and invites Patience along, but Patience, afraid of social approbation, refuses, and Sarah ends up traveling with a bookselling parson for a year and failing to free herself permanently from her family. Upon her return, however, Patience proves to have had a change of heart, and now SHE is the one who wants the two to live alone together. Patience convinces her brother to buy her out of her inheritance, and the two women purchase a farm ninety miles north of New York City.
Comments
: Okay, so I didn't believe for a second that two 19th century American woman were ACTUALLY narrating this charming little novel...but who cares? The novel's accessible and largely modern prose allows the sheer joy and exuberance of the story to shine through and allows its writer Alma Routsong (under the pseudonym Isabel Miller) to tackle a wealth of feminist and lesbian dilemmas without seeming unnecessarily didactic. Sarah's realization that she cannot simply become a female man in order to ease her interactions with either Patience or society at large is an important one, and she grapples on numerous occasions with the impossible with just to become male so that she can get what she wants without having to fight for it. Also lovely was Patience's way of arguing Sarah into leaving with her; the inconvenience of traveling in inclement weather to each others' homes and hiding the true extent of their affections from their families becomes increasingly untenable the longer they do it.
I was also delighted by the sympathy with which ALL of the characters in this novel are treated--there are no villains or apparent writerly grudges against, say, parents here. The enemy of the heroines is societal and religious institutions. Moreover, all of the supporting characters find an uncomfortable fit with some aspect of those institutions. Patience's brother Edward, for example, is, in spite of himself, intrigued and perhaps aroused by the idea of two women together, while Dan Peel is attracted to Sarah when he believes that she is a boy. In short, Routsong makes a concerted effort to embrace the whole of human sexual variation with compassion and tolerance. And, in my opinion, that's the absolute best way of going about writing a book about minority issues: Prove that you're better than your oppressors by refusing to roll over your grievances into more hate and oppression.
Notes
: trade paperback,
Little Sister's Classics
edition, 1st printing
Rating
:
6.5/10
-
A delightful, humane novel that transcends its classic lesbian romance niche and is sure to be appreciated by anyone who enjoys an author with a sweet yet unassuming voice of hope.
Pratchett, Terry. Reaper Man. 1991. New York: HarperTorch, 2002.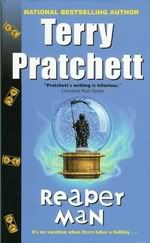 Summary
:
Discworld
series
#11
. Death is told that he will die and tries his hand at farming. Meanwhile, the resulting buildup of life energy is causing chaos in Ankh-Morpork, where wizard Windle Poons discovers that he has become a zombie and must thwart a parasitic entity that lures humans out of the city and into an organic hive that bears a remarkable resemblance to a shopping mall. In the end, of course, all is restored to normal and Death is back in business.
Comments
: Okay, the "Who am I going to call?" ghost-busting riff was pretty funny, as was the star-crossed romance between Mrs. Cake's werewolf daughter Ludmilla and the reverse-werewolf Lupine. On the other hand, the snow globe to shopping cart to super mall life stages of the parasite was a bit...overboard, if I do say so myself. 'Course, this was written in the early 90's, when the mallrat was virtually a cultural icon. So perhaps Pratchett can be excused for that.
Pratchett pretty much has a trademark on the chapter-less, ADHD narrative structure, yet I couldn't help but notice that this novel seemed to bounce about a bit less than usual; most of the action centered around Bill Door a.k.a. Death or Windle Poons. Naturally, focus is a plus in my book, so yours truly didn't develop as severe a case of attention deficit while reading this novel either. Plus, it DOES explain the origin of the Death of Rats, which, since finishing
Hogfather
, always had me wondering. Still, nothing about it really captured my imagination (Why's he making Death such a emotional weenie?), and I wouldn't exactly call it Pratchett's finest hour.
Notes
: mass market paperback, 11th printing
Rating
:
5/10
-
Fans of the Discworld will want to read them all, of course, but you won't be missing much if you give this one a pass.
Pratchett, Terry. Wyrd Sisters. 1980. New York: HarperTorch, 2001.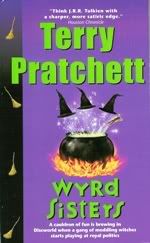 Summary
:
Discworld
series
#6
. Ramtop witches Granny Weatherwax, Nanny Ogg, and Magrat Garlick form a reluctant coven and soon find themselves meddling in royal politics when King Verence of Lancre is assassinated by the duke. Though they find a home for the king's infant son with an acting troupe that passes through and speed up time so that he makes it to adulthood in a timely fashion, turns out that Tomjon would rather stick with theatre and his brother the Fool ends up taking his place on the throne.
Comments
: This is the first
Discworld
novel to feature any female protagonists, and, due credit to the author, boy do they make a splash! The sources of this novel's satire are Shakespeare's plays (think "Hamlet" for ghosts of murdered kings and "Macbeth" for witches) and pretty much every fairytale that involves a fairy godmother or a witch. Yet, unlike the ridiculous (and all-male) wizards, the witches, despite their occasional airs, are bastions of reliability by comparison. They're also independent of men and remarkably powerful, which is quite cool. And, in true fairytale fashion, they turn out to be the power behind the throne.
Most Pratchett's novels are heavily indebted to the high fantasy tradition of Tolkien, Adams, and their successors and will probably not be fully appreciated by readers who are not already fantasy/sci-fi fans with a sense of humor. However, due to the fast and furious classic literary allusions throughout,
Wyrd Sisters
is certainly the most immediately accessible of Pratchett's novels that I've ever read, even for those who do not normally enjoy the high fantasy genre and is an excellent entry point for laypersons who wish to get acquainted with the UK's top-selling writer.
Notes
: mass market paperback, 12th printing
Rating
:
5.5/10
-
Your inner English literature major will cackle with delight.
Rich, Frank. The Greatest Story Ever Sold: The Decline and Fall of Truth from 9/11 to Katrina. New York: Penguin, 2006.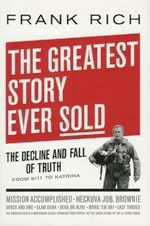 Summary
: Former drama critic and
New York Times
columnist Frank Rich documents the ways in which the Bush administration systematically lied to the public and manipulated the media in order to retain power in the face of looming public disapproval and to further serve the neocon agenda.
Comments
: Okay, confession time: I LOVE Frank Rich. Keenly insightful when it comes to the nation's mood yet not overbearing in an over-clever, self-satisfied fashion a la Maureen Dowd, he's been my favorite columnist for several years now, even before he joined the elite roster at the *ahem* Paper of Record. I've never seen anyone connect what's going on in pop culture so deftly with what's going on everywhere else yet nonetheless keeping so utterly faithful to reality (Rich has never been one to trumpet the supremacy of the so-called moral values contingent, for example), and I was hoping for more of the same in this new anti-Bush administration polemic.
Unfortunately, suffice it to say that I didn't get what I was hoping for. Though this book represents a comprehensive and exhaustive summation of everything that happened in the mainstream media (most notably on TV) as it relates to the Bush presidency, and a full one-third of it is a timeline that compares the White House's oft-fictional narrative that it used to sell the war with what it is actually known to have known about the situation in the Middle East...it's TERRIBLY BORING. Save for brief appearances in the first and last chapters, the brilliant, scintillating sound-byte analysis of culture combined with politics gives way for thorough but tiresome documentation of a lot of things that I didn't want to know about the first time around a lot of things that annoyed and disgusted me when I did learn them on second exposure. Sadly, I'm just not a fan of factoid books.
Nevertheless, Rich's main thesis, that Bush and Co. systematically manipulated the media in order to sell the Iraq war to the American public and thereby maintain power to 1) continue to give handouts in the form of tax breaks to the uber-wealthy and 2) satisfy the neocons in the inside clamoring to assert American authority abroad unilaterally in the Middle East to secure Israel, is awfully hard to dispute. My fellow Americans, we've been duped and played for fools! And, if the most recent midterm elections were any indication, we know it and (allow me my brief moment of optimism, here) won't take it anymore!
Notes
: hardcover, 1st edition
Rating
:
5.5/10
-
Staunch Bush supporters (are there any rational ones left at this point?) are gonna hatehateHATE it from the get-go, and those already convinced will find their eyes drooping, but if you're at all unsure of what has happened in the United States since the dawn of the 21st century, read this book and be enlightened.
Sacks, Oliver. The Man Who Mistook His Wife for a Hat and Other Clinical Tales. 1985. New York: Touchstone, 2006.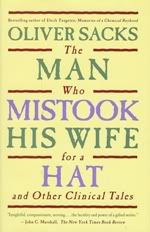 Summary
: Eminent neurologist Dr. Oliver Sacks recounts over twenty case studies of patients suffering from some truly bizarre perceptual and intellectual defects.
Comments
: Though this classic that was on my high school Psychology teacher's list of recommended reading, I had never even picked a copy up until just the other day when I saw an attractive hardcover edition on the Borders bargain bookshelf. Needless to say, this book, filled with medical, neurological, and psychological jargon, is not light reading, and I was deeply irritated to note that Sacks often referenced cases that he would not cover until a much later chapter. Nevertheless, a casual reader will still find it accessible and wholly relevant even two decades later, and the stories are instantly captivating. (Now I know where the creators of
House
got some of their material--most notably the elderly woman with neurosyphilis who finds her sexual desires reawakened.) I particularly enjoyed the explication of proprioception (body-sense) and of the idiot savant twins' mathematical genius for they delve deeply and speculatively into the parts of our consciousness that we rarely stop to consider.
However, I emphatically DID NOT enjoy Sacks' taste for moralizing spirituality. I'm not, for example, interested in hearing about how some--but not all--mentally handicapped patients have become "de-souled." A neurologist indirectly positing an anatomical/physiological site for the soul? And whenever there's anything he can't explain, we must fall back on supernatural epistemologies? Oh, as if! (Pardon me while I roll my eyes.) While he may think it humanizes his writing, all it does for me is undermine his authority as an expert in his field. Besides, his judgment in these sorts of manners is utterly tasteless; there is the recurring implication throughout the book that those patients who are still spiritual beings are somehow better in an absolute sense than those who are wholly unconscious of their plight and not suffering. He even takes the time to distinguish between to different men with the same ailment! I'm sorry, but it is not Sacks' place as a doctor to make these sorts of judgments. Leave the metaphysical to the clergy, okay?
Notes
: hardcover, special sales edition, 1st printing; originally published in 1970
Rating
:
7/10
-
Infuriating intrusions of religion in what is ostensibly a book about psychology aside, you'll find no better introduction to the human brain's bio-mechanical complexities, wonders, and mysteries.
Spark, Muriel. The Prime of Miss Jean Brodie, The Girls of Slender Means, The Driver's Seat, The Only Problem: Four Novels. New York: Everyman's Library, 2004.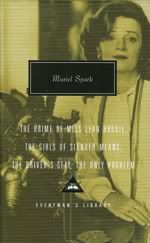 -The Prime of Miss Jean Brodie-
(1961)
Summary
: Unorthodox girl's school teacher "in her prime" Miss Jean Brodie cultivates a special "set" of girls that she hopes to make extraordinary. Ultimately, however, she is betrayed by Sandy, one of her set, and the school uses her Fascist leanings in order to justify firing her.
Comments
: A deftly-crafted novel so understated in substance and style that it failed to leave much of an impression. Still, Miss Brodie's ambitions are compelling even as they become ethically troublesome; she believes that she has omnipotent control over her "set" and even hopes that one of them will become a proxy of sorts to net the married man that she cannot have. And, then, of course, there's the fascism. She's obviously a proponent of the "superman" (superwoman!) theory of human social development, and, as it turns out, a girl dies because she encourages her to act on incendiary politics. It's at this revelation that Sandy feels justified in betraying Miss Brodie, yet what fame she achieves later in life is due to the teacher.
All of this is told almost in Homeric oral style, with character traits repeated over and over, and some passages repeated verbatim. Chronology is also fluid, and the story has a meter as opposed to a timeline. The effect, theoretically, is to make these rather humble happenings a classical, epic quality that impresses their gravity on the reader--but I found myself unmoved.
-The Girls of Slender Means-
(1963)
Summary
: The May of Teck Club for girls of slender means seems an oasis of culture and femininity in the wake of WWII, but it's an illusion that cannot stand up to tragedy when an unexploded bomb suddenly wreaks destruction on the Club. After wannabe anarchist Nicholas witnesses his lover Selina steal a dress that the girls share in the chaos and the elocution mistress sacrifice her life for the others, he goes to Haiti on a religious mission and is killed.
Comments
: To be perfectly honest, I'm not a big fan of these seemingly mannered novels; they just don't speak to me, even when the characters are, as in this case, actually acutely impoverished. Indeed, the intention of the story is to show that, even within a seemingly frivolous girls' world, there are both profound heartlessness and heroism standing side-by-side. Aspiring intellectual and weight-watcher Jane is the most memorable bit, though, and as this sort of character she seems to exist in the book mostly for her own sake for the most part. However, like those of Sandy in
The Prime of Miss Jean Brodie
, her conversations with other characters after the fact provide the framing. Only for people who like reading about women who seem to have lots of time on their hands and have lots of time on their hands themselves.
-The Driver's Seat-
(1970)
Summary
: Lise goes south for a vacation, looking for the right man--to kill her. She actually meets the right one, previously convicted for attempted murder, on the plane, but he avoids her, and she is left to explore the city with an elderly woman who turns out to be his aunt before finally confronting him and convincing him to do the deed according to her specifications.
Comments
: Again, the omniscient narrator of this short novel plays with chronology; as Lise lives out her last day alive, the story at times pauses to interject how brief encounters become the subject of police scrutiny. Which is ironic, given that we never learn exactly why she wants to die or, for that matter, even what her nationality is! Am I missing something somewhere? Does this novel even have a reason for existing in the first place?
I was less pleased by the implications, however--that women brutally raped and stabbed to death late at night in parks are literally asking for it. Good grief. What kind of message is THAT supposed to be? The first thing we see her doing is buying appropriately zanny clothing! Given the ambiguous tone, I'm not even certain anything is supposed to be taken in seriousness or not. But, even as satire, it fails abysmally to hit the right chord with me.
-The Only Problem-
(1984)
Summary
: The wealthy Harvey Gotham, obsessed with the Book of Job and the "only problem" of why God makes bad things happen to good people has a disagreement with his wife, who leaves him, and shacks up with his sister-in-law Ruth and hiw wife's daughter by another man, Clara. And then he is thrust into the limelight when he finds out that Effie is allegedly involved in a terrorist organization that has murdered a police officer. Indeed she was, she dies in a shoot-out, and then Harvey moves on with his life and lives happily ever after.
Comments
: Color me unimpressed for a fourth time. Stylistically speaking, this novel couldn't be more different from Spark's previous endeavors; the prose here is straightforward and unadorned and the chronology linear. While there are different points of view presented throughout, they are not crucial to the understanding of the story. Most of the substance involves the rather unusual but ultimately banal interpersonal relationships of the main characters. And, naturally, Harvey's life and that of Job's in the Bible are meant to mirror each other, but no solutions to "the only problem" are forthcoming. What a waste of time. It wasn't even bad enough for me to genuinely hate it.
Notes
: hardcover, Everyman's Library US edition
Rating
:
4.5, 4, 3, 5/10
-
Obviously, there are a lot of people out there who believe that Muriel Spark is an amazing writer who deserves to go down in history as one of the greatest...but I'm not one of them.
Stephenson, Neal. Snow Crash. 1992. New York: Bantam Spectra, 1993.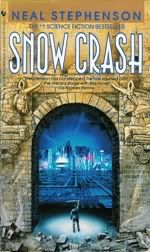 Summary
: Hacker Hiro Protagonist, along with his newfound partner, the Kourier Y.T., stops a dastardly rich guy from spreading a virus that makes people vulnerable to mind control. Along the way, they must outsmart the Aleut harpooner Raven, who wants revenge on the United States.
Comments
: Well, well, well. Finally, a writer who does cyberpunk better than William Gibson!!! And why, you ask, is Neal Stephenson better than William Gibson? Three words: HE IS FUNNY. Things like the Deliverator (think pizza delivery guy +
Blade Runner
) and the Rat Things (supersonic android dogs) made what would otherwise have been a self-indulgent, bloated, adolescent male wish-fulfillment edition of
The Da Vinci Code
tolerable.
'Cause, to be perfectly honest, there was a lot to dislike about this novel. The whole conflation of linguistics, Judeo-Christian tradition, and computer programming essentially makes hackers, at least if you take Stephenson at face value, the modern-day equivalent of the Messiah. Oh, PLEASE. In my world, at least, hacking is fundamentally DESTRUCTIVE behavior. I think the author is mixing up hackers with programmers. But regardless, I think their importance has been greatly exaggerated, and nuking a couple of million of their brains is not going to lead to the downfall of society as we know it.
I was also not thrilled with the racial and ethnic stereotypes. Pretty much every culture the average American male who came of age during the Baby Boom thinks is cool is represented with stereotypical, even fetishistic, detail--black (hip-hop), Japanese (technocracy and samurai), Italian Mafia (
The Godfather
, baby), Eskimo (Me versus the SEA!). Yet whitebread America and Europe is nowhere in sight, save maybe for Y.T.'s mother. Despite the reconciliation of sorts that occurs between Hiro and Raven at the very end of the novel, I found myself horrified and repulsed over and over and over again. For, while much here is satirical, bigotry is only guilt-free entertainment for bigots--and guilt was not ever the point here. "Coolness" was. Reminds me of the blonde-haired, blue-eyed classmate who insisted that she is Cherokee. Puh-leeze. One of the criteria for membership in a minority group is that it is imposed, not chosen. Sorry, but this novel's world is fantasy, and the fantasy is offensive. A real Eskimo's life--heck, a real inner-city black man's life--is a hell of a lot less glamorous.
Still, we've got an impressively prescient work of science fiction on our hands. A lot of the framework of the world, particularly the politics, still rings very true fifteen years later. Interestingly, William Gibson's
Pattern Recognition
is
Snow Crash
lite with all of its discussions of the viral spread of information, but Gibson was just writing about the present. Stephenson instead connects the supposedly arcane ancient past with the present/near-future. Humans were living robots once until the Hebrews saved us, and we can be again the government-corporate alliance has their way. Ohhhhkay. Sure, neurolinguistic hacking's never going to happen, and the Metaverse probably won't, either (there's a lot more to workable VR than just an IMAX helmet), but within the context of the story itself, it all weaves together seamlessly into a tapestry that's pretty fun to contemplate.
Notes
: mass market paperback, 4th printing, out of print; trade paperback edition available
Rating
:
6.5/10
-
Lots of action, lots of talking heads, and lots of pure entertainment. As long as you remember not to take the scenery too seriously, the ride is plenty worth it.
---
*originally posted on
caseybrienza